The Landworkers' Alliance is an active participant in the European Coordination of Via Campesina's Migrant & Rural Workers' Working Group. This grouping brings together agricultural workers' unions – namely SOC-SAT of Andalusia and FNSA of Morocco – and ECVC affiliates in countries which import produce from their countries. In this blog, our Migrant Solidarity Campaign Coordinator Catherine McAndrew looks back on her recent trip to Spain and Portugal with the ECVC working group, and reflects on the work they've been doing to fight for better conditions for agricultural workers in Europe.
Catherine will also be hosting an online webinar on this topic on  Zoom, May 31st 6-8pm. You can register your free place here. 
A Visit to Huelva, Spain
At the beginning of April, I took part in an international delegation organised by ECVC to Huelva, Spain. If you see a berry in a supermarket saying it came from Spain, there is a good chance it came from Huelva. There are 11,740 hectares of soft fruit production in the province, with 350,000 tonnes of strawberries produced each year. We saw miles upon miles of plastic polytunnels dominating the landscape.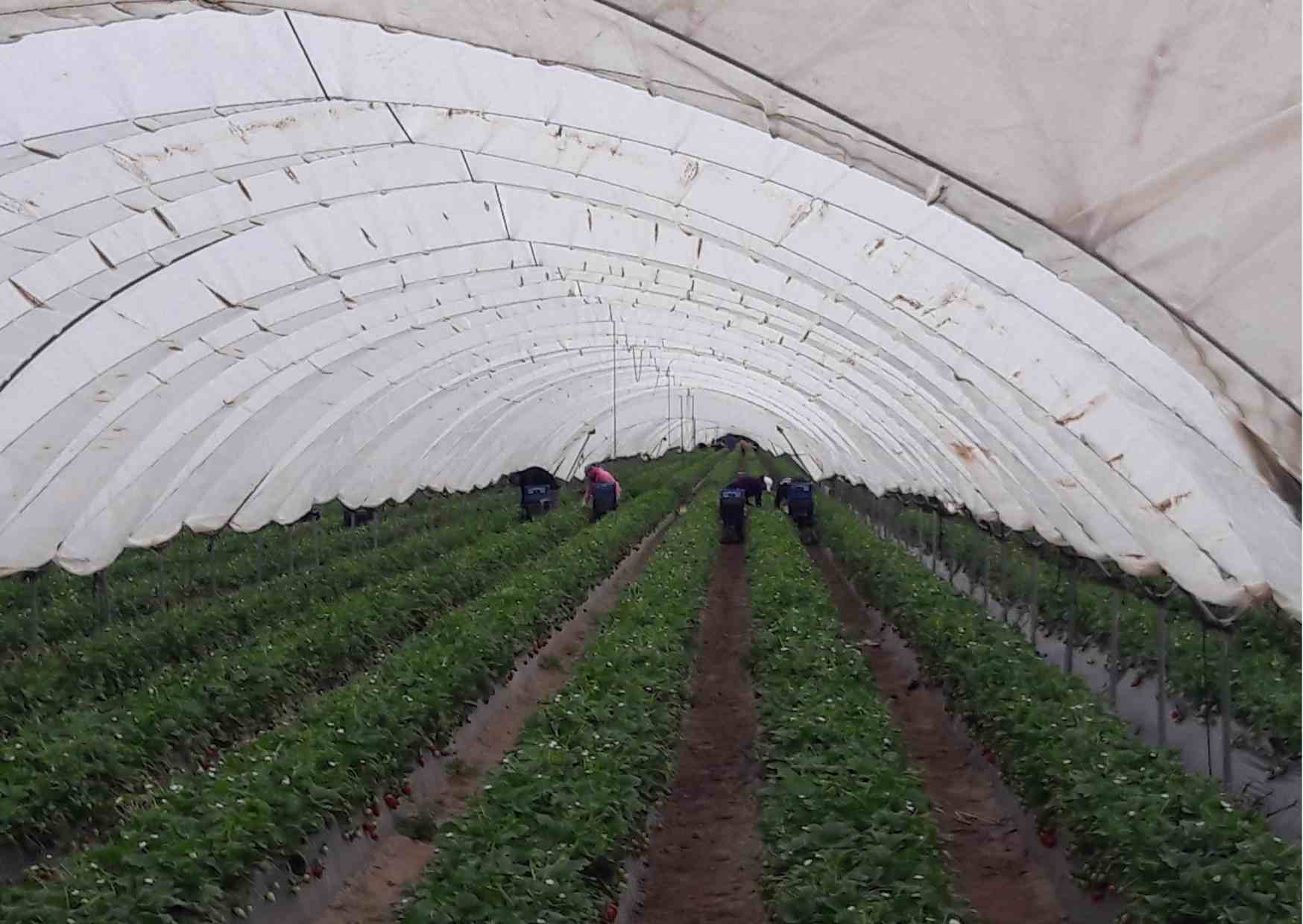 Strawberry pickers at work in Huelva
100,000 workers are needed to harvest and process Huelva's 'red gold'. Around 15,000 of these workers are hired through a process called 'contract in origin'; meaning these workers are hired in Morocco and are returned once the harvesting campaign is complete. Workers hired through the contract in origin system are tied to specific farms, and risk deportation if they come into conflict with their employers. We met Moroccan workers at their barracks, who showed us the GPS trackers their employers used to ensure they kept working at a fast pace. 
We also visited chabolas: shanty towns constructed out of old polytunnels on the outskirts of farms. I remember seeing a Moroccan worker showing us the collected rainwater she had to drink, a yellow-green colour compared to the clear bottled water we had brought with us. The Andalucian local government fails to provide water or refuse services to the chabolas, but the Guardia Civil police force did find time to confiscate solar panels paid for by a fundaraiser organised by Ethical Consumer magazine. 
At one of these chabolas, I met Omar (not their real name), a worker from Gambia. Omar picks blueberries for a farm not too far from his chabola. Undocumented workers like Omar tend to be hired informally by the day. When it rains, as it had been for a few days before we visited, there is no work for him. His main complaint when speaking with us was pay, which is being rapidly outstripped by inflation. 
Omar receives 45 euros for a 6.5hour period of work, during which he will pick 40 kilos of produce. The blueberries he picks are sold by the farm for export at 8€ a kilo, which are then sold at £12 a kilo in British supermarkets. This means that workers like Omar will receive roughly 1,12€ for a kilo of blueberries sold for 15€ in the UK.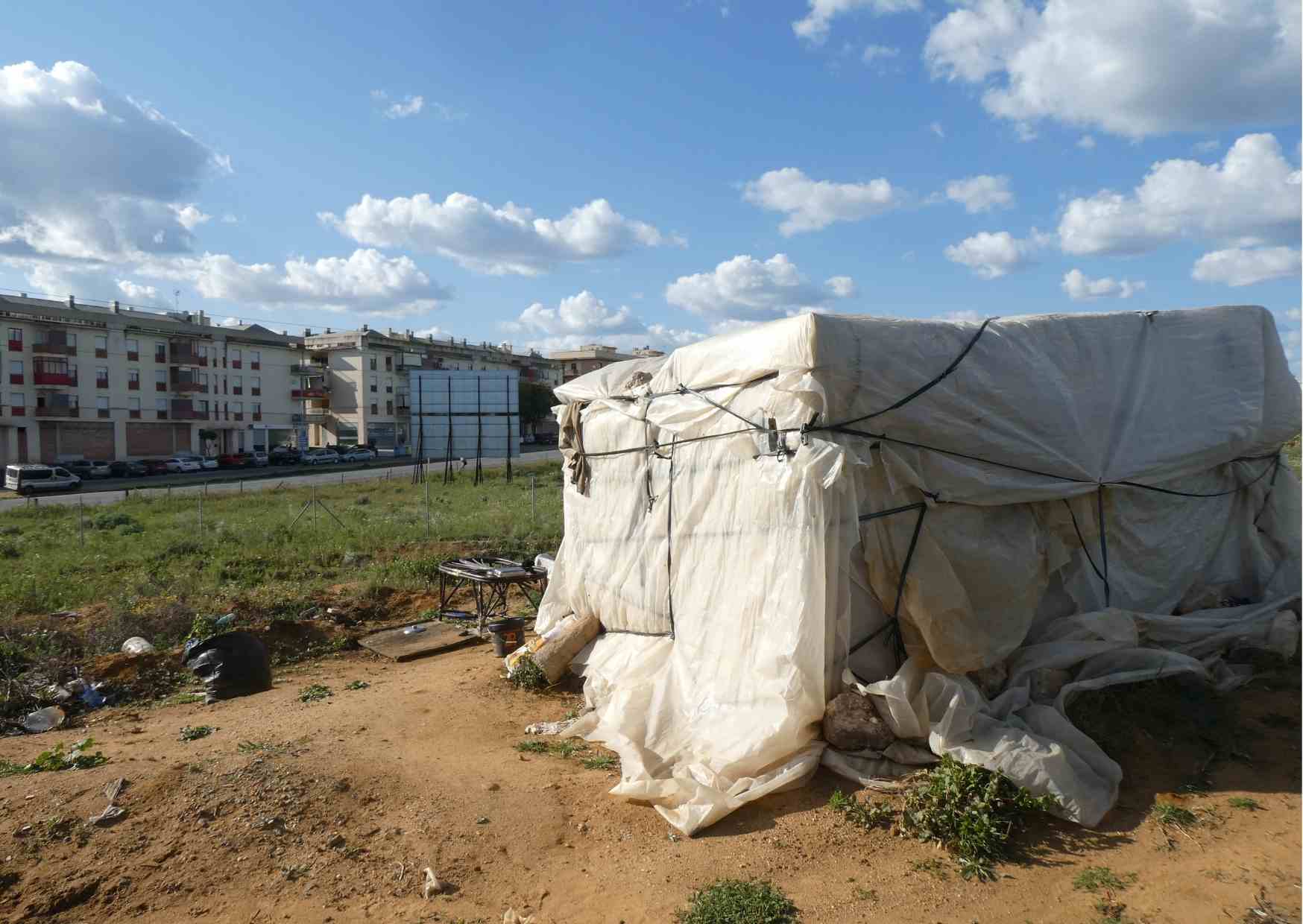 Omar's home
A Victory in Morocco
At the start of the year, our working group was focused on a serious situation faced by workers at a large tomato producer in Morocco. Post-Brexit, Morocco is increasingly becoming the key source for produce in UK supermarkets. Between January 2020 and 2021, imports of Morccan produce increased by 51%, replacing the Netherlands as the number one source of imported food. 
Morocco's agricultural sector is dominated by a handful of large agribusinesses. One of the main players in Morocco's tomato sector is Azura. It employs 16,000 workers and operates 58 production sites in Souss-Massa, one of the poorest in Morocco. 
Azura boasts in its Sustainability Reports that it respects the right of workers to join trade unions and their legal right to elect delegates to negotiate on their behalf. But from August 2021, the management of Azura's Farm 9 refused to recognise the FNSA's delegates and repeatedly refused attend meetings with the union mediated by the Moroccan labour inspectorate. 
Following a protest of employees at Farm 9 over their management's refusal to negotiate, management illegally dismissed their delegate at the beginning of November. From December 9th, FNSA members staged a permanent sit in outside Azura's headquarters in Ait Baha demanding the delegate's reinstatement and the resumption of negotiations.
On January 2nd, one of the protesting workers was struck and killed by a car. The FNSA alledges that by placing the parked cars of executives on public land outside the facility's gate, Azura prevented the workers from picketing safely and made this accident an inevitability. Her name was Sabah Dinar, she was 30 years old and the mother of four young children. She had given 9 years of her life to Azura. Insult was added when Azura attempted to disperse the sit in using security guards employed by British security company G4S on January 4th.
After Sabah's death, La Via Campesina began an international solidarity campaign with the Farm 9 workers. A statement was circulated to buyers and institutions alerting them to the situation at Farm 9 and a series of large demonstration by agricultural workers condemning Sabah's death. This campaign resulted in the intervention of British supermarkets linked to Azura demanding that the company begin negotiating with the union.
This intervention contributed to major concessions from Azura. The dismissed delegate received compensation for his sacking, and workers received half pay for the time they spent in the sit in. Azura has committed to a process of dialogue with the FNSA, and the FNSA and Azura are now negotiating nationally for an agreement that will cover all 16,000 of the company's workers. Azura has also committed to pay for the education of Sabah's children as compensation for her death. 
This victory shows the power that supermarkets at the top of internationally supply chain, the ultimately beneficiaries of worker exploitation on these farms, to resolve. It also shows the potential power of an alliance of agricultural workers unions and supporter and consumer organisations striking jointly against employers at the base of the supply chain and supermarkets at the top.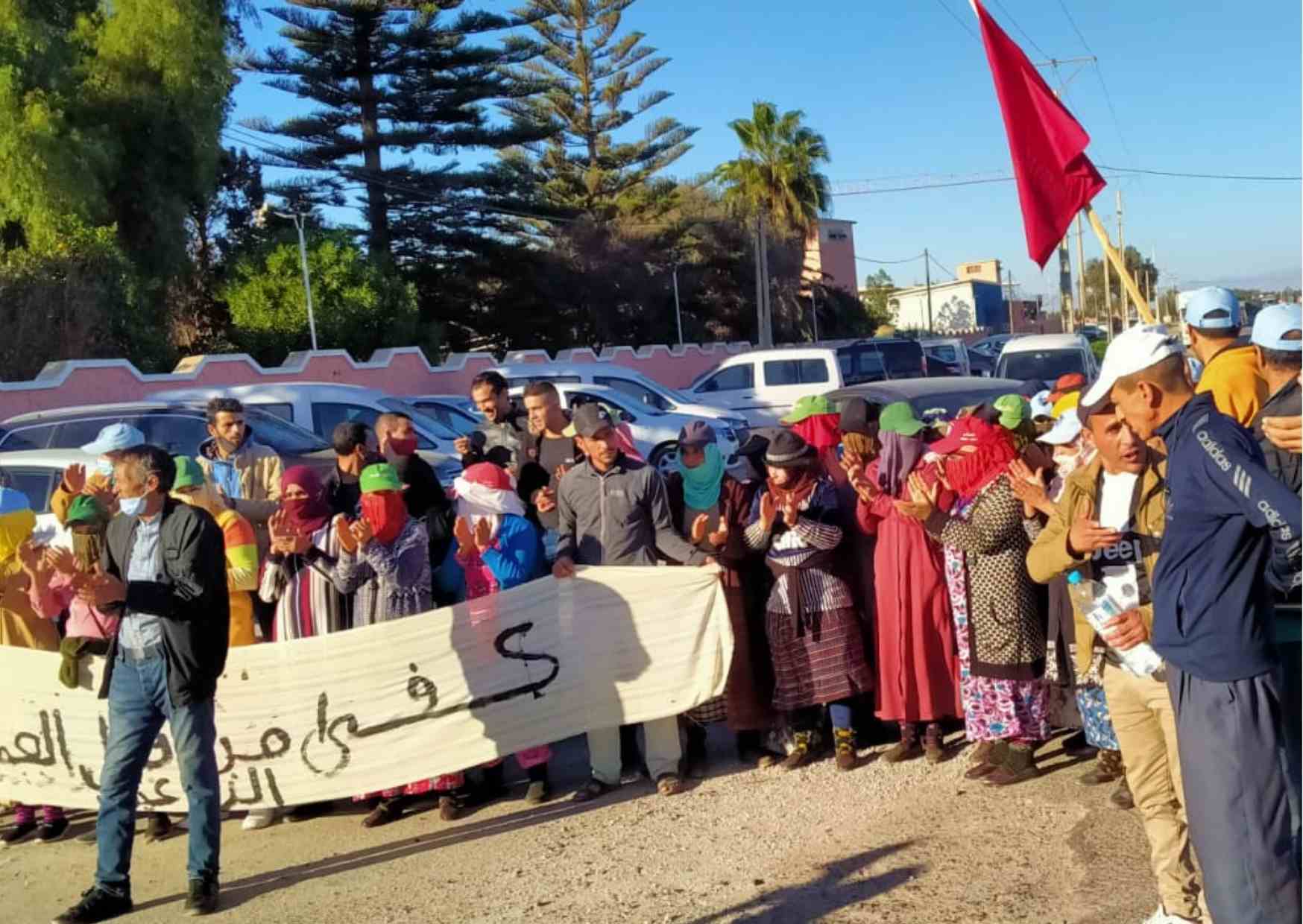 Demonstration of Farm 9 workers after Sabah's death
Fire and Rehire at Eurosol
In 2019, SOC-SAT won a majority on the Works Council, an elected body for workers' representation, at Eurosol, a large agribusiness in Almeria. SOC-SAT used this position to enforce the collective agreement for agriculture at Eurosol. In August 2021, SOC-SAT members successfully took their employer to court to win holiday pay and paid rest breaks. 
From spring 2021, Eurosol hired a group of Malian workers. These workers were under the direction of a gangmaster and were kept away from the existing workforce. These workers were used to alter the composition of the Works Council in favour of the CC.OO, a union which is close to management. After, Eurosol began a campaign of victimisation against SOC-SAT members, dismissing 19 workers on spurious grounds. This practice is reminiscent of the fire-and-rehire attacks that have been used against workers in the UK, most prominently against workers at P&O Ferries. 
The Landworkers' Alliance joins other trade union and social organisations in Europe to condemn the behaviour of Eurosol and to demand the reinstatement of the 19 dismissed workers. We demand that the supermarkets that purchase from Eurosol, most prominently Migros, Lidl, and Albert Heijn, take immediate action to ensure the reinstatement of the dismissed workers. To read more about the Eurosol struggle, you can a full timeline of events here, along with statements from ECVC, SOCSAT, and Uniterre.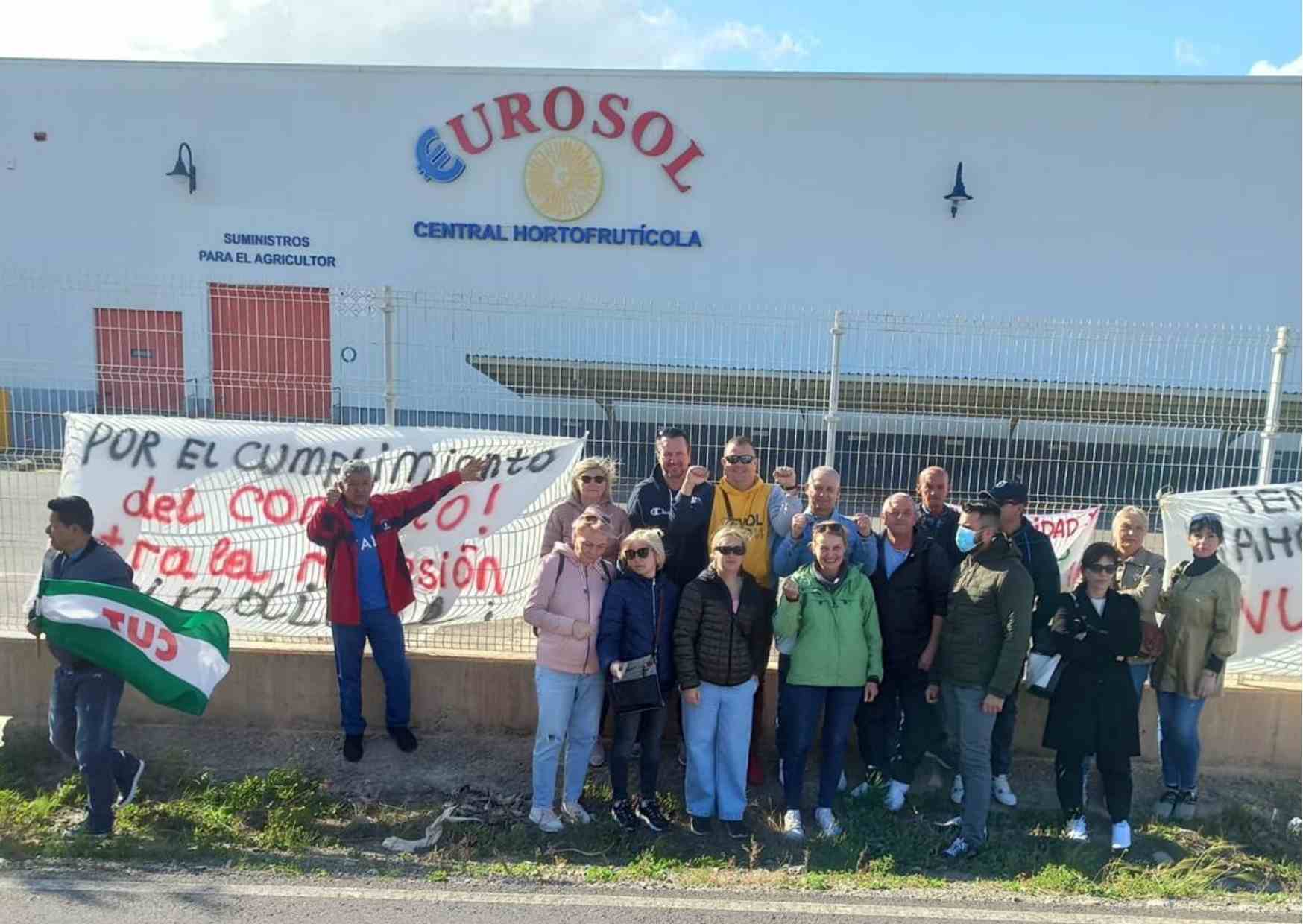 A demonstration of dismissed Eurosol workers on April 24th
Worker Struggles and Food Sovereignty
La Via Campesina fights for a food system which is controlled by and run for the benefit of food producers and food consumers, and oriented towards the needs of the population rather than towards international markets and profits of corporations. Wage workers are often at the sharpest edge of the exploitative practices of a corporate food system that aims to extracts wealth from both the land and the people that work it. The fight of agricultural workers for human conditions on their farms directly challenges the rule of the corporates, and every success helps lays the foundation of a food system based on dignity and sovereignty.  
Most of this piece is focused on the struggles of workers in the conventional sector. But if you are a worker at an agroecological enterprise, there is a group of workers working to improve conditions that you can be connected with. The Growers' Union group has been providing a space for agroecological workers to discuss their conditions and how we can organise to improve them. Wage workers are an essential part of the agricultural system, agroecological or conventional, and if our alternatives are to be truly sustainable than they must provide their workers with sustainable livelihoods. If you would like to get involved, please reach me at catherine.mcandrew@landworkersalliance.org.uk and I will pass on your details to the group.
Catherine will be hosting an online webinar to talk more about her work with the ECVC working group, and organising for migrant workers rights in the UK. This will be taking place via Zoom on May 31st 6-8pm. You can register your free place here.