What's the issue?
The climate crisis impacts the lives and livelihoods of agroecological land workers globally.  Agroecological land workers, peasants and indigenous peoples provide real solutions for how we can first and foremost reduce our carbon emissions and support biodiversity.
The UN Conference of Parties (COP) will hold its 26th meeting on the UN framework convention on Climate Change, where countries come together to negotiate agreements on how to address climate change internationally.  Over 30,000 people usually attend the official conference, while many many more people attend to participate in side events and counter summits which have provided an important platform for the climate justice movement at COP negotiations.  
This is set to be held in Glasgow from the 1st – 12th November 2021, though this conference has already been delayed by one year and debates continue about whether to move the conference online or further postpone it due to Covid.  Strong civil society participation at COP is vital and we will continue to demand that the UK government and UN organisers ensure that safe participation is secured for civil society.  
What are we doing?
As the COP is due to be held in the UK, the Landworkers Alliance is working to support delegates from other Via Campesina members to participate in the conference and counter summits.  We are organising with civil society organisations through the COP26 Coalition and other coalitions to make sure that food sovereignty and agroecology are understood as real solutions to the climate crisis, to challenge false solutions put forward for agriculture and land use, and to build solidarity with other climate justice campaigns in the UK and globally.  We are planning to host spaces which focus on food sovereignty and can be a positive space for people in the food sovereignty movement to come together and learn from each other in how we work to build climate justice.
What can you do?
Join the LWA COP26 Working Group – This is an online mailing list and working group that will meet fortnightly from September onwards to plan our activities around COP. We use this to discuss ideas for workshops, creative ideas for mobilisations/logistics, share updates and news around COP26 etc.

Call to Action postcards – Help us to spread the word by distributing Mobilise for Climate Justice postcards. To request a free pack to distribute yourself please contact Roz at roz.corbett@landworkersalliance.org.uk.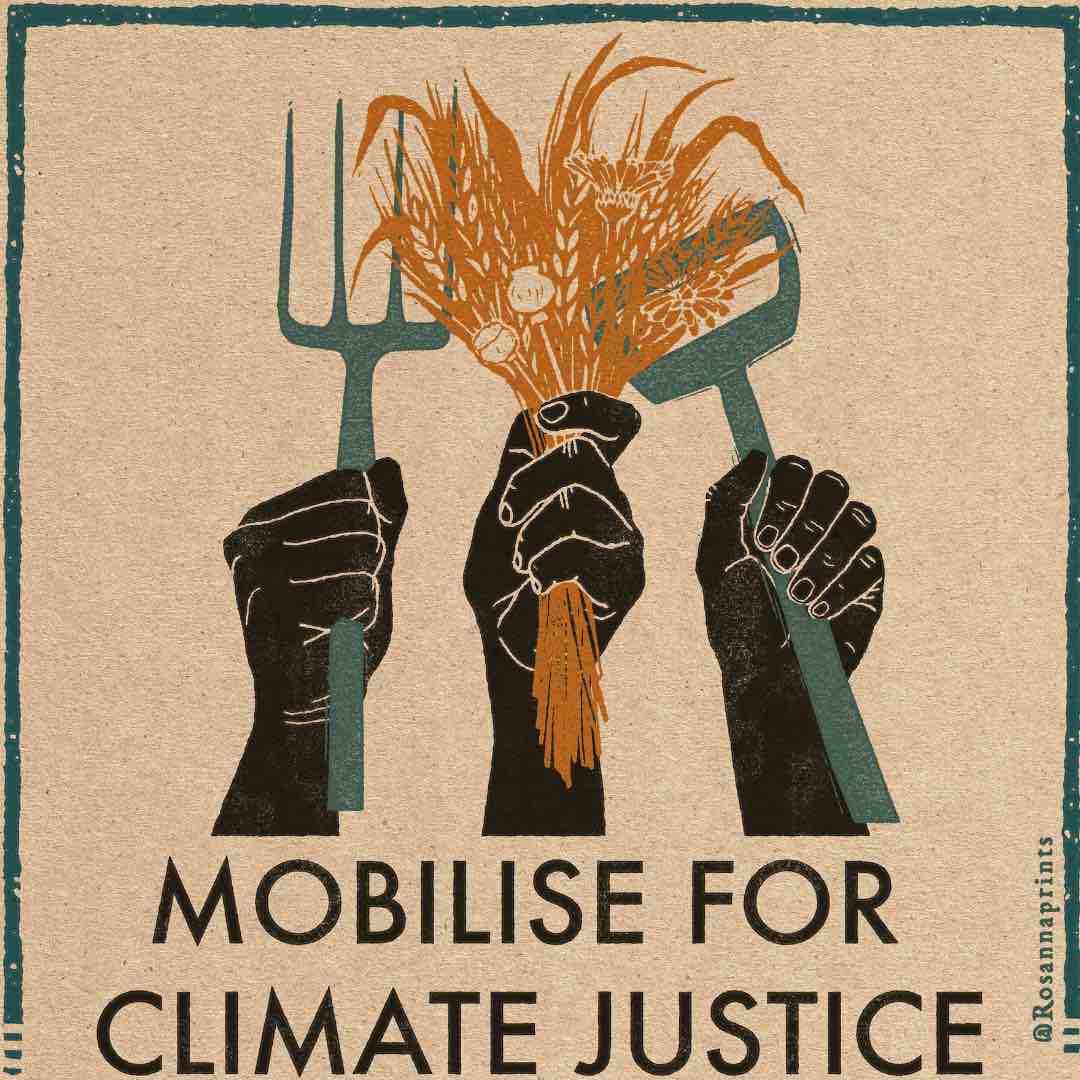 Join the Farmers, Foresters and Londworkers Bloc at the Global Day of Action, Glasgow, Nov 6th – Actions are taking place in Glasgow and all around the country, click here to find your local action hub, or join us in Glasgow at 11.30am opposite the Kelvingrove bandstand on Kelvin Way.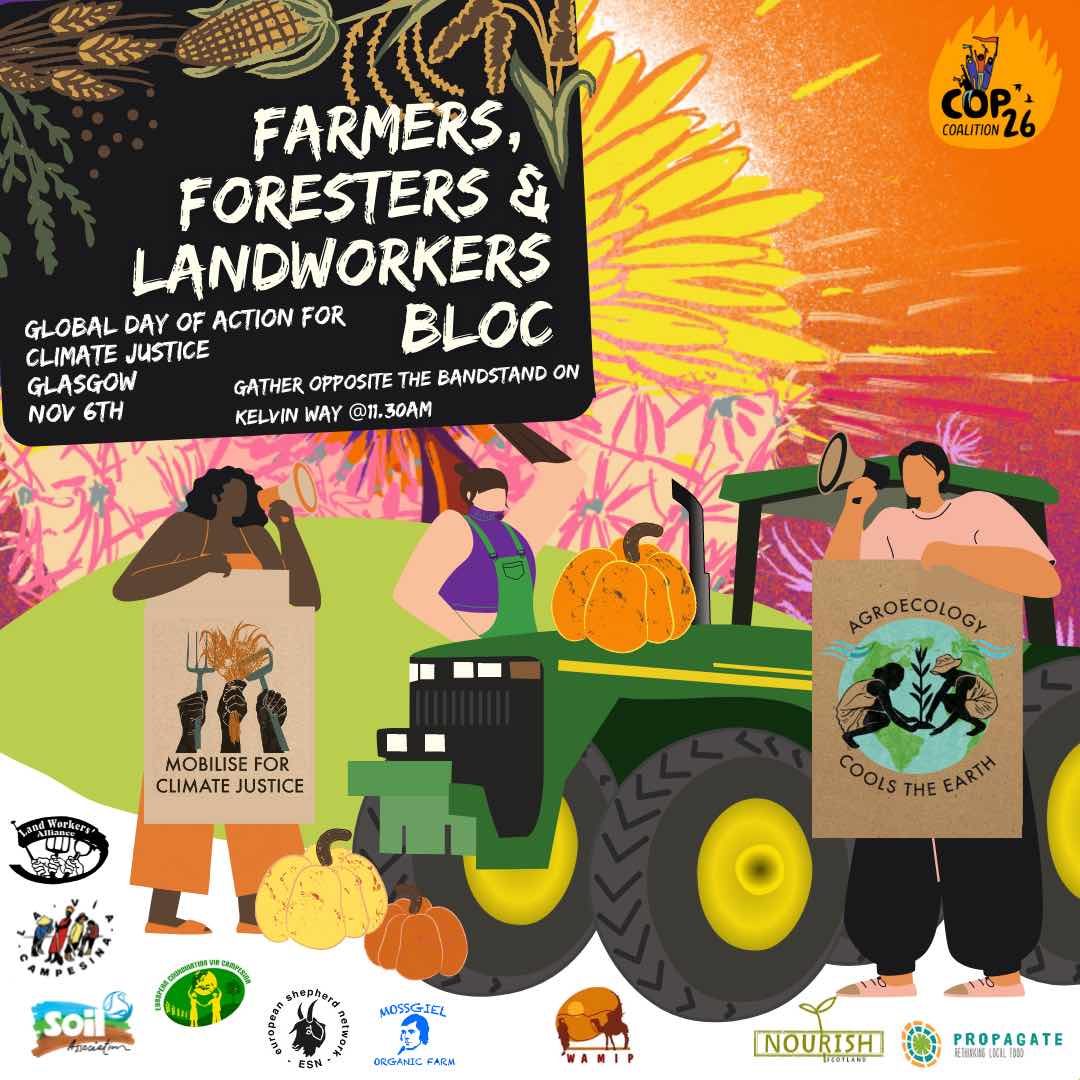 Carve a pumpkin – To show your support from home, carve a pumpkin with a crop, vegetable, fruit, animal or insect of your choice, and share photos of your pumpkin on social media using the hashtag #Diversity4Resilience.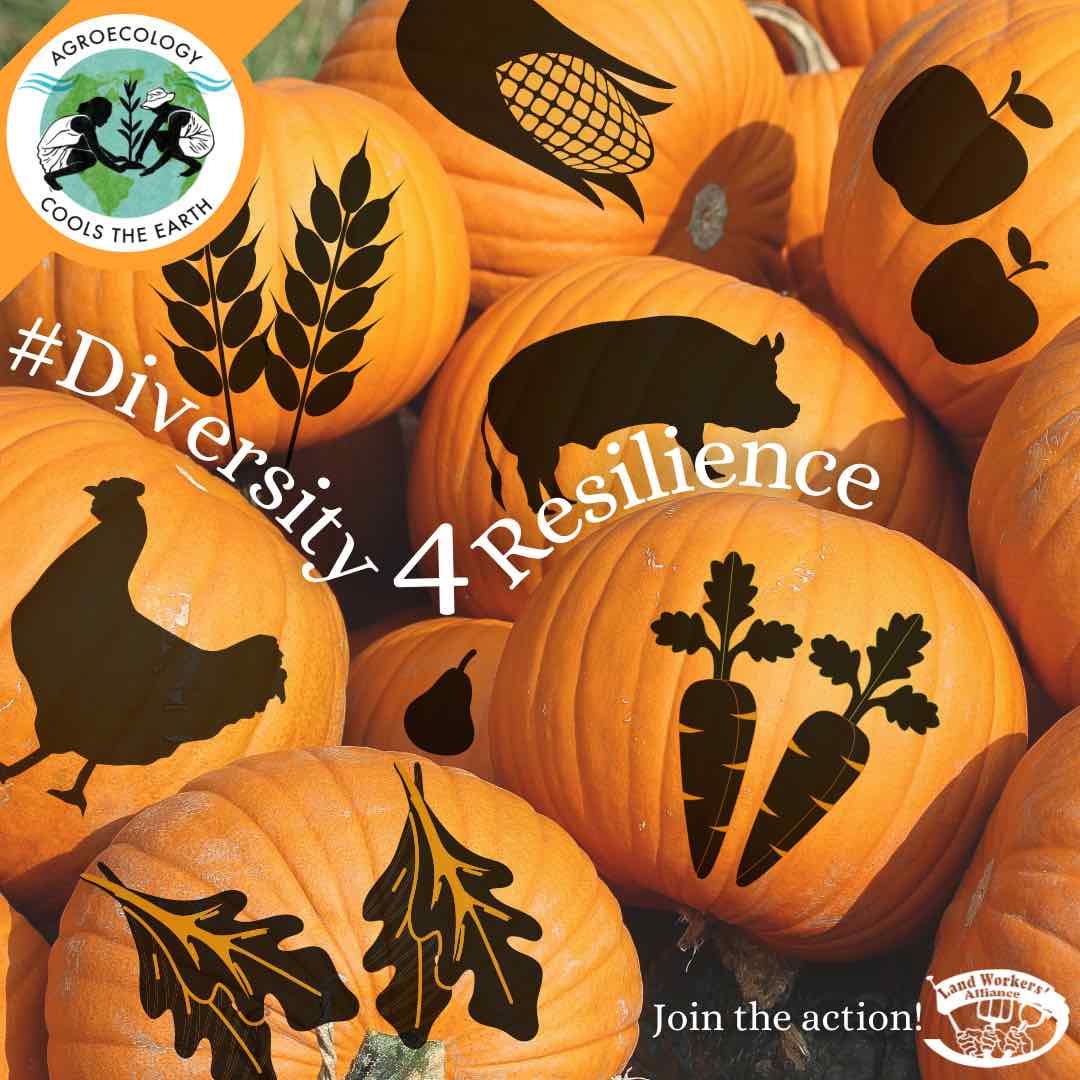 Host a Farm Visit – Create an opportunity for local community and COP attendees to learn about how agroecology cools the planet by offering an in-person (or recorded) farm tour.
Host Campers (or Offer a Homestay) – Offer a space for land workers travelling to Glasgow to camp or crash on a bed, couch or floor. You can also sign up to the Homestay Network coordinated by Stop Climate Chaos Scotland and the COP26 Coalition to open your space to the wider community of activists participating in COP.
Contribute Produce for Shared Meals – Sell us your produce for a people's kitchen to feed COP26 activists and delegates during the two weeks of COP (31st Oct – 12th Nov).
If you are interested in contributing towards any of the above, or would like to contribute in other ways, please email brittany.oakes@landworkersalliance.org.uk

This podcast is available to listen via Frontline Foodcast on Spotify, iTunes, Amazon Music and most other podcast apps.
Resources on some of the False Solutions that are key to debates for COP26