Organic Cotton Babygrow – Various Colours
Organic Cotton Babygrow – Various Colours
100% Combed Organic Cotton babygrow featuring the very cute slogan "I am a small scale farmer" on the front. Please note: tools not included, nor are they intended as a recommendation.
See below for sizing information.
Size Guide: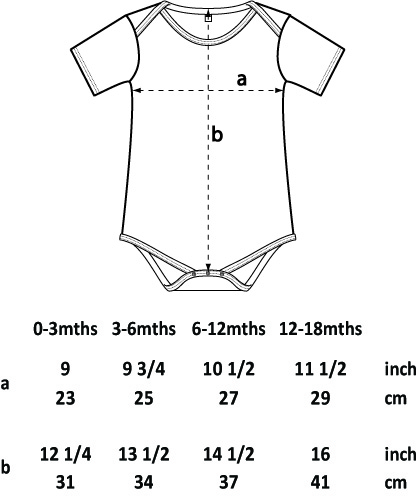 If you need more advice on sizing, you can email merchandise@landworkersalliance.org.uk
A note on gender and sizing:
We believe that clothes do not have a gender, and that the fit, colour and style of clothing is an individual choice. We've de-gendered product descriptions and instead have tried to give information about the cut and fit. However, we're a bit limited by the clothing that is available and how companies choose to present their clothing. For this reason, the labelling inside our clothing may unfortunately still be gendered – but we encourage you to wear whatever you like and feel comfortable in. 
Similarly, we have tried to expand on the range of sizing we have offered previously, but again we are somewhat limited by what is on offer. This is still a work in progress and any feedback on sizing – and suggestions for more ethical clothing suppliers who offer a wide range of sizing would be appreciated.
Additional information
| | |
| --- | --- |
| Colour | Black, White |
| Fabric | Cotton |
| Print Colour | Black, White |
| Size | 12-18 months, 6 – 12 months, 0 – 3 months, 3 – 6 months, 6 – 9 months, 9 – 12 months |