On May 7th Landworkers' Alliance Northern Branch members staged a demo outside the Syngenta chemical plant in Huddersfield to demand an end to the manufacture and export of pesticides which are banned in the UK.
Local farmers, landworkers and activists dressed in hazmat suits with wheelbarrows, tools and organic produce protested outside the Syngenta factory – where the majority of the UK banned pesticides are manufactured – to show solidarity with farmers, landworkers and food producers across the world who are suffering the impacts of deadly pesticides.
The toxic herbicide Paraquat was banned for use in the UK in 2007 due to the danger it poses to human health and the environment, but it is still manufactured in Huddersfield by chemical giant Syngenta. Many of these pesticides are lethal to humans, and are linked to numerous chronic adverse health outcomes including liver and kidney failure, DNA damage, and Parkinson's disease. In Odisha, India, nearly 200 people died from Paraquat poisoning between 2017 and 2019 alone.
In 2020, 12,240,000 kilograms of pesticides prohibited from being used in the UK were manufactured for export to countries where their use is permitted. In 2018, the UK accounted for over 40% of Europe's Banned Pesticides exports, far more than any other country in the region for that year, and 87% of these UK exports contained the toxic pesticide paraquat.
It's an issue which relates to UK consumers and farmers, too. The UK Government is currently pushing for increased trade with Brazil – a country where Paraquat use is permitted and where it has caused more deaths in the past decade than any other pesticide permitted for use. A new trade deal with Brazil could mean that not only would UK consumers be eating food with toxic pesticide residues, but UK farmers would be undercut by lower import standards, while the risks associated with pesticide use is exported onto food producers in other countries.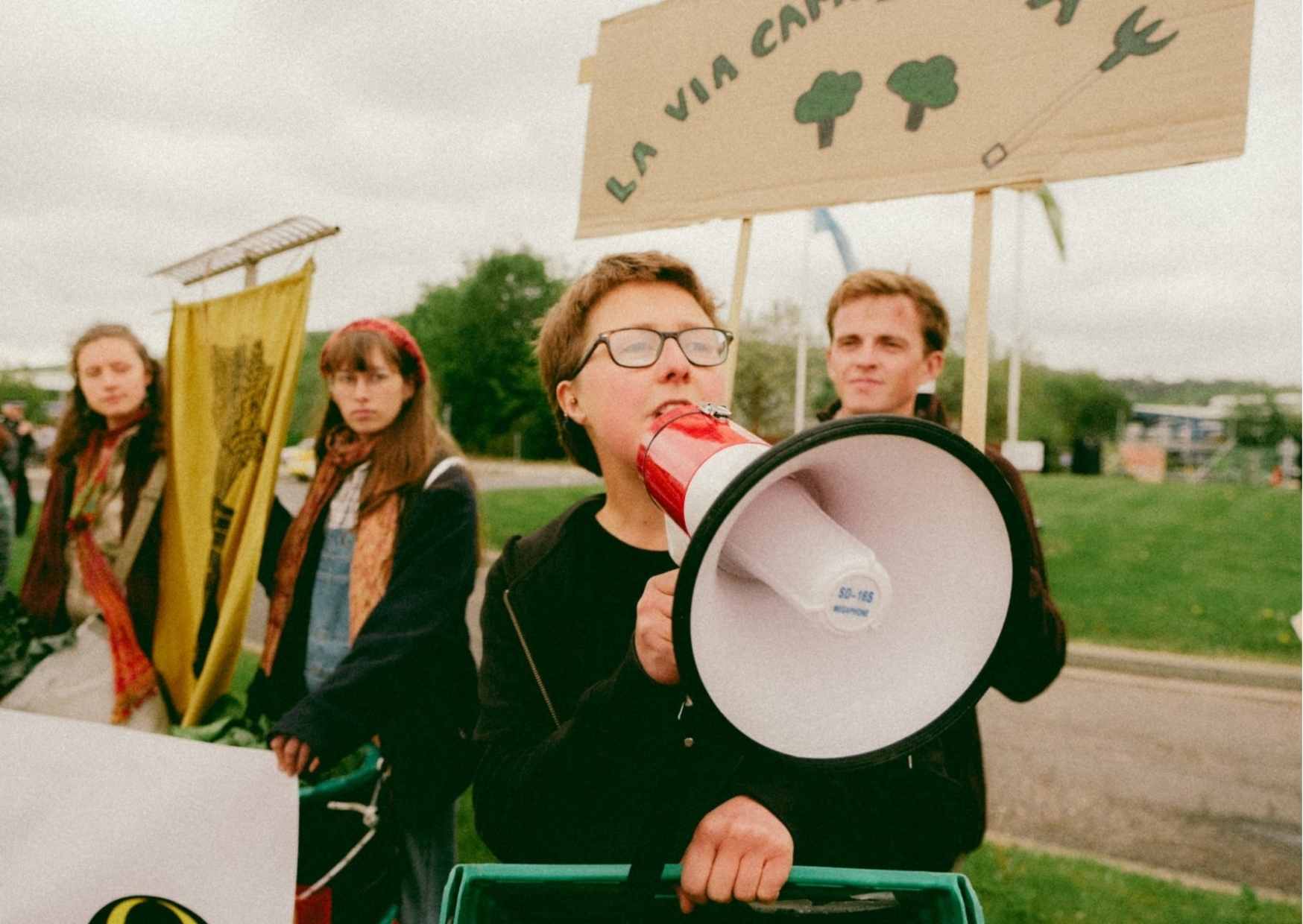 Rhian – a local food producer and a Landworkers' Alliance member who was at the demo, said:
"When the Landworkers' Alliance asked farmers in India 'what can we do to support you?'  they told us that the UK produces a pesticide called Paraquat which is killing people in their communities. Paraquat is so deadly that in the UK we don't allow farmers to use it – but we continue to export it to other countries like India. We need to end the double standards now."
Jyoti Fernandes, Policy and Campaigns Coordinator, from the Landworkers' Alliance said:
"We desperately need to stop these double standards in trade and trade deals which allow the UK to export deadly chemicals, endangering human and environmental health, then import back the produce covered in these poisons.
We want the Department of International Trade to create trade rules to stop the export of paraquat and other toxic pesticides prohibited for use in the UK and to stop the import of agricultural products produced with these pesticides. We also want the Health and Safety Executive to enforce existing trade rules related to banned pesticides."
Paraquat is still sold to countries including India, Brazil, Australia and the U.S., endangering the health of farmers and food producers who use it.
Dr D. Narasimha Reddy, Consultant at Pesticide Action Network (PAN) India said:
"Farmers, farm labour and others have been affected by highly hazardous pesticides (HHPs) for a long time in India. We have documented many such instances, both episodic and individual. Additionally, no trial and safety studies are done in India, and ingredient regulation is absent.
In India, humans, environment and ecology share the same characteristics as in Britain. When they are harmful in the UK, and banned because their harm is established, they do not become 'safe' in India. Using loopholes, UK companies reap profits, at a cost to farmers, farm labourers and others affected by toxic pesticides."
The Countrymen's Club, which was recently featured in a BBC investigation into Paraquat, said:
"Several members of our local community who were exposed to a range of chemicals on farms, including paraquat, back in the 1970s and 1980s have all gone on to develop Parkinson's disease. Given the potential risk to human health, it is unfathomable to think that these chemicals are still being manufactured in the UK and exported elsewhere in the world."
The LWA launched a letter-writing campaign in April urging people to write to the government to stop authorising the export of these deadly pesticides, and to ensure that any future trade deals don't weaken the UK's food import standards with regard to toxic pesticide residue.
Vicki Hird is Head of Farming at sustainable food and farming organisation Sustain. She said:
"It's abundantly clear, from even the government's own advisory committee, that new deals could result in the UK having to accept imports of agrifoods produced with pesticides banned in the UK and possibly with pesticide residues on the food.
The UK Government must urgently introduce a trade strategy to protect our food standards as well as a set of core standards that domestic produce and imports alike must meet.
The idea that we are manufacturing and exporting pesticides that have been banned here for the impact on our health or the environment is abhorrent. They should not be part of any future trade deals and we should not be producing them."
Click here for more information on our Stop Exporting Banned Pesticides campaign and to find out how you can show support.